With so many tourists flocking to the UK every year, it's hard to imagine so many of them missing out on taking that hop, skip and jump across the water to the beautiful emerald isle of Ireland.
Ireland is a country full of rich history, breathtaking landscapes and unique cultures – a country unlike any other. The true beauty of Ireland speaks for itself, but just in case anybody still feels they need some convincing, we've picked the top 3 reasons to travel to Ireland.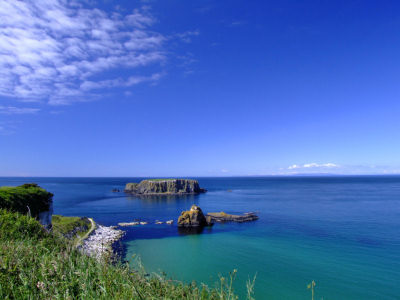 The Natural Landscape
Ireland is home to some of the most unique and awe-inspiring natural landscapes and coastlines in the world.
The Cliffs of Moher are an unforgettable stretch of towering cliffs on the majestic coastline of County Clare. With not so much as a fence between you and the 700ft drop to the waves below, you can really appreciate the true power and beauty of the sea and rock below your feet. Not far from the cliffs you'll find The Burren, an amazing karst landscape covered in limestone.
In County Antrim stands the Giant's Causeway, Ireland's first World Heritage site. A truly intriguing natural wonder, the Giant's Causeway is hard to believe, with columns of basalt stretching up from the ocean, forming a honeycomb-like footing along the shore.
The white sandy beaches along Cork and Kerry and the picturesque green paradise in the Connemara area offer breathtaking experiences for hikers and sightseers. The narrow roads along the Ring of Kerry are perfect for those looking for a scenic drive. The River Shannon is the perfect option for the nautical-at-heart, stretching through 231 miles of incredible landscape and quaint riverside towns.
No matter where you go in Ireland, you're guaranteed to see natural beauty that no camera could ever do justice. It's a veritable playground for nature-lovers, sightseers and explorers.
Irish Culture
Ireland is home to many towns and areas that are primarily Irish-speaking, called Gaeltachts, where Gaeilge, not English, is the first language of most households. It is not just in these areas, however, that Gaelic culture is still present and strong within Ireland. Everywhere you go you'll find reminders of this nation's Gaelic roots, from traditional music to plays and poetry, food, architecture and community, there are still many strong Gaelic influences apparent in modern-day Ireland.
History
Ireland is rich with history – everywhere you go you can find ruins, ceremonial sites, castles, abbeys, and historical sites of all kinds. Ireland is proud of its history and, as it is such a drawcard for interested tourists, there is a plethora of available means to explore the historical landmarks and stories that mark it.
The Skellig Islands are home to a 6th century monastery, the Carrowmore Megalithic Cemetery in County Sligo is a prehistoric burial site believed to date back to 3500 – 4500BC,  the Oweynagat (cave of cats) in County Roscommon is an ancient spiritual site believed to be the gate to the underworld by pre-Christian Irish and there's the Blarney Castle in County Cork, home to the famous Blarney Stone, which you can kiss if you're game.
There is a multitude of amazing historical sites to be explored, and plenty of resources for more information about Ireland's history, like tours, books, museums and, of course, the locals.
If you still don't feel the need to explore the vast green nation of Ireland, then come for the pubs! Whatever your reason, Ireland holidays are an experience that you'll never forget, and a first trip is rarely the last with so many amazing counties, towns, rivers, coastlines and cities to explore. If you want to see it all, you'd better get started.

—————————————
Written by Sasha O'Shea
It is almost as good as dream comes true for Sasha when she got an offer as a travel writer, infusing her love for travel and her passion to share wonderful moments with her fellow travellers.  Sasha also loves yoga and teaches part-time in a local studio.